GeoEnergy meets GeoTHERM
The shallow geothermal working group (David Bertermann, Johannes Müller & Hans Schwarz) will visit the internationally well-known fair and congress GeoTHERM 2018 in Offenburg. On February 27th, there will be a pre-congress workshop organised by Bundesverband Wärmepumpe e.V. with the main topic the "Terra-Solar Projekt" (Hameln, Germany) where Hans Schwarz & David Bertermann analysed the pedological and underground related properties of the project's test site using laboratory analysis and geo-electrical measurements during the GeoSurf project.
The European project "Cheap-GSHPs", David Bertermann and Johannes Müller are working on, also contributes to the GeoTHERM agenda. There will be a workshop about this and collaborating Horizon2020 projects with the main focus on shallow geothermal energy on March, 1st (2 – 6 pm) and a presentation about the first overall outcomes of the "Cheap-GSHPs" project on March, 2nd (1.40 – 2 pm)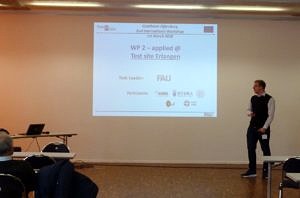 Johannes Müller presents the main outcomes of WP 2 of the "Cheap-GSHPs" project during the workshop. (Photo: Robert Gavriliuc)
Further it is planned to visit colleagues at the University of Strasbourg to swap ideas on joint research topics.
See you at soon GeoTHERM 2018